---
---

| | | |
| --- | --- | --- |
| | Nuggets : Allen Iverson's 51 not enough as Lakers beat Nuggets, 111-107 | |
Posted by Dal on

---
Iverson scored a season-high 51 points against Kobe Bryant and the Lakers in a loss. Iverson poured out 49 points in only the first three quarters, but was shut down in the fourth and held to only a layup. His teammates could not help the cause (Anthony, 4 for 10). Iverson also finished with 8 assists.
---
(Read More... | 676 bytes more | Score: 4.87) | Reads: 4821

| | | |
| --- | --- | --- |
| | Nuggets : Iverson continues to set torrid pace as he leads Nuggets in rout | |
Posted by Dal on

---
Iverson continues to set torrid pace as he leads Nuggets in rout
Allen Iverson has one speed, as 6,349 fans at the Resch Center were reminded Tuesday.
The Denver Nuggets point guard goes full out against the wider and bigger bodies in the National Basketball Association, whether it's an exhibition game or Game 7 of a playoff series.ight.
Iverson contributed 22 points and six assists in playing 29 minutes in the Nuggets' 104-78 rout of the Milwaukee Bucks, giving the paying fans something to see.
"That's the way I play the game," Iverson said. "God gave me a talent, and I just want to make the best of it. You approach every game the same way. You never underestimate anybody else, regardless if you're playing against a winning team or a losing team."
---
(Read More... | Score: 4.5) | Reads: 2290

| | | |
| --- | --- | --- |
| | Nuggets : A Preview of things to come | |
Posted by Dal on

---
As the new season begins, there's a lot of good things to look forward to for the Denver Nuggets. The Nuggets found their stride near the end of last year's season (where the Nuggets won 11/12 games at one point), but unfortunately lost to the eventual NBA Champions, the San Antonio Spurs. However, the Nuggets showed us a glimpse of what they were capable of.
---
(Read More... | 1485 bytes more | Score: 0) | Reads: 2250

| | | |
| --- | --- | --- |
| | Nuggets : Denver Nuggets Lose in 5 To San Antonio Spurs | |
Posted by Dal on

---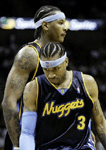 The Nuggets' post-season run came to an end, as the Spurs beat the Nuggets 93-78 in 5 games. It was one of Iverson's worst playoff performances, where he made just 31 of 92 shots, after scoring 31 in the their Game 1 win.
"I felt like this was the worst playoff series that I've played in my career," Iverson said. "It was kind of frustrating, coming into a new situation, wanting to be the one that gets this team over the hump, get them out of the first round. And to play like I'm not capable of playing is just frustrating."
But the outlook looks good for the Nuggets, we saw a glimpse of the Nuggets full-force near the end of the season where they won 10 of 11. Once they get a full training camp together, they could possibly be a top 1-2-3 seed in the West. Hopefully, they'll be able to keep Camby in the off-season, and have a healthy K-Mart come back in October.
---
(Read More... | Score: 3.44) | Reads: 3213

| | | |
| --- | --- | --- |
| | Nuggets : Iverson and Anthony Combine for 61 As Nuggets Steal Game 1 From Spurs on the Roa | |
Posted by Dal on

---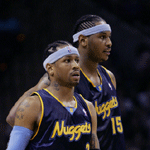 AI and Melo gave the San Antonio Spurs a surprise One-Two punch they never expected. Anthony scored 30 points and Iverson added 31 as the Nuggets steal Game One on the road. Nene added 13 points and 12 rebounds and Marcus Camby grabbed 10 boards. Denver entered the playoffs having won 10 of 11, and are playing their best basketball right now.
However, the Nuggets aren't celebrating just yet. Two years ago, they were in the same situation where they won game one, but lost the next four straight. Nuggets will need to stay poised to beat the Spurs in what will definitely be a tough series.
---
(Read More... | Score: 4.6) | Reads: 3659

| | | |
| --- | --- | --- |
| | Nuggets : Nuggets' Coach Karl wins in return to bench | |
Posted by Dal on

---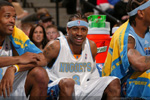 The Denver Nuggets coach returned to the team after spending two days with his son, who had surgery to remove cancerous lymph nodes.
"We were all aware of the situation, with his son and everything" Nugget forward Carmelo Anthony said after Denver's 120-115 win over Sacramento on Wednesday night.. "He settled us down by telling us all was well."
Melo had his 4th straight 30-point game scoring 31. Iverson had a double-double, with 16 points and 10 assists. Nuggets are now a half game behind LA Lakers for the 6th spot. But, do they want to play Phoenix or San Antonio in the first round? Check out the poll
---
(Read More... | Score: 4.2) | Reads: 3310

| | | |
| --- | --- | --- |
| | Nuggets : AI and Melo clicking as Nuggets win 5 in a row | |
Posted by Dal on

---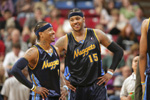 The Denver Nuggets have found their stride lately, with 5 straight wins against Sacramento, Portland, LA Lakers, New Jersey and a huge win over Phoenix, where they totaled 131 points against the league's highest scoring teams. AI scored 44 points and dropped 15 assists, and Melo had 29 pts. They showed how dangerous the Nuggets can be when their offence is at full-force.
---
(Read More... | Score: 5) | Reads: 4202

Posted by Dal on

---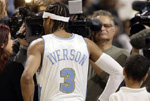 AI made his highly anticipated debut as a Denver Nugget, all decked out in Baby Blue, White and Yellow (still need to get used to the colours), and played a good game despite a loss to Sacramento.
He fought through jet lag, car sickness and pregame butterflies that felt more like birds before he finally got to play his first game for the Denver Nuggets. He posted 22 points, and 10 assists -- not bad considering he hasn't been playing ANY ball in game or practice for a week. He would've had 20 assists had his teammates made their shots.
Overall, AI's debut brought a new level of excitment to Denver...even though they did lose, the fans got to see how exciting it was to watch A.I. play hard, hustle, pass the ball and doing everything he can to win the ball game. Can't wait until the next game.
---
(Read More... | 6873 bytes more | Score: 4) | Reads: 4070


---