Posted on by Dal

---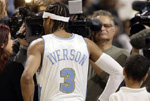 AI made his highly anticipated debut as a Denver Nugget, all decked out in Baby Blue, White and Yellow (still need to get used to the colours), and played a good game despite a loss to Sacramento.
He fought through jet lag, car sickness and pregame butterflies that felt more like birds before he finally got to play his first game for the Denver Nuggets. He posted 22 points, and 10 assists -- not bad considering he hasn't been playing ANY ball in game or practice for a week. He would've had 20 assists had his teammates made their shots.
Overall, AI's debut brought a new level of excitment to Denver...even though they did lose, the fans got to see how exciting it was to watch A.I. play hard, hustle, pass the ball and doing everything he can to win the ball game. Can't wait until the next game.
Sacramento 101, Denver 96
Preview - Box Score - Recap
By EDDIE PELLS, AP National Writer
December 23, 2006
DENVER (AP) -- Allen Iverson fought through jet lag, car sickness and pregame butterflies that felt more like birds before he finally got to play his first game for the Denver Nuggets.
When his debut with the depleted Nuggets was over Friday night, the feeling was familiar for the former 76er. Another crowd-pleasing performance, 22 points and 10 assists over 39 minutes, wasn't enough to prevent a loss -- 101-96 to the Sacramento Kings.
"I'm glad it's over," Iverson said. "That's the only thing I thought about, just getting the first one by me. I wish it could've ended with a win. I felt it could've ended with a win."
As it turned out, it was another former Philadelphia player, fifth-year guard John Salmons, who was the game's most valuable player. He finished with his first career triple-double -- 21 points, 11 rebounds and 10 assists -- to lift the Kings to a satisfying win.
Rough weather in Denver put them in a travel bind, and they arrived at the Pepsi Center only 90 minutes before tipoff, or about the same time Iverson finally made it.
"We will never have a worse travel day than today," Kings coach Eric Musselman said. "Our energy and effort was phenomenal."
The Kings might go down as a trivia answer if Iverson's arrival in the blockbuster trade that sent Andre Miller and Joe Smith to Philadelphia takes the Nuggets where they hope it will.
In his debut, playing on a team with only eight healthy players, the newest Nugget gave the kind of gritty, gutty performance that has become his trademark.
He played 39 minutes after a whirlwind of a day in which he arrived in Denver in the late afternoon, was whisked to the Pepsi Center, passed his physical, took a few jumpers on the practice court then suited up to be on the floor for tipoff.
He spent the first 8:35 on the bench. When he finally came in, he received a standing ovation, and never left the floor.
This was widely considered the biggest trade in Denver sports history since the Broncos brought John Elway to town nearly 25 years ago. It's a trade many think could put the Nuggets -- who have long played second fiddle in this city -- into championship mode.
"They embraced me here," Iverson said of the welcome he received. "It was just a great feeling and it was a feeling I wanted to get. A feeling I hoped to get. It was special to me, something I'll remember and cherish the rest of my life."
During a stretch late in the third quarter, Iverson was at his tiptoeing, no-look-passing best, giving a preview of the difference he can make to this team.
He made a pair of 3-pointers, created an open 15-footer for himself and also had a sweet pass to Linas Kleiza as part of a big run that gave the Nuggets their first lead since early in the first quarter.
The highlight was a tiptoe down the baseline, followed by a no-look pass to Reggie Evans through traffic in the key for an easy bucket.
The game was tied at 87 with 3 1/2 minutes left when the Kings started pulling away with six straight points on a pair of baskets by Salmons and a layup by Shareef Abdur-Rahim.
Iverson would have had 20 assists were it not for the struggles of his new teammates, many of them unused to the minutes they played and none of them accustomed to receiving the kind of passes Iverson throws.
"I was just playing basketball, taking what the defense gave me," Iverson said of the Kings, who played a lot of zone trying to stop Iverson. "When they crowded me, and I saw guys open, I made the right plays."
Iverson finished 9-for-15 and this was one of those rare games in which he may not have shot the ball enough.
Earl Boykins scored 25 points on an 8-for-23 night in which the Nuggets shot 37 percent as a team.
"It was a tough game," Nuggets coach George Karl said. "We really wanted to win it for AI and the team. The courage was good, the commitment was good. It was the little basketball frustrations that slowly built to a level that was difficult to overcome."
Certainly, things will change when Carmelo Anthony returns 13 games from now after serving out his suspension for his fight with the Knicks.
But as it currently stands, the Nuggets need everything from Iverson. They are also missing J.R. Smith -- also on suspension -- and learned that center Marcus Camby could be out a while because of a finger injury he suffered earlier this week.
That's three of Denver's best players -- a combination that, when healthy, the Nuggets believe will compete for a championship with the addition of AI. Others have doubts as to whether Anthony and Iverson, the league's top two scorers, can play together.
"He knows we're going to be good," Iverson said. "When you look at our roster, it says a lot. Everybody talked about can we coexist? I get tired of answering it. My thing is, just wait and see. A lot of critics will be wrong."
The Nuggets got 10 points and 11 rebounds from Evans and 12 points from DerMarr Johnson, who gave up his No. 3 jersey when Iverson arrived.
Brad Miller had 21 points and 14 rebounds and Kevin Martin finished with 17 points for the Kings, who were forced to fly to Colorado Springs and bus it 70 miles north to Denver, which was still overcoming the Wednesday blizzard that shut down the city and delayed Iverson's arrival, as well.
Notes
The Nuggets shot 17-for-31 (54 percent) from the free-throw line and fell to 0-3 this season when they shoot below 60 percent. ... Brad Miller had his first double-double of the season.
---