Posted on by Dal

---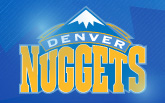 It's finally happened! After a decade with the Philadelphia 76ers -- from being Rookie of the Year to being the league's MVP - Allen Iverson has left the Sixers for good. It's been a funny series of events. Think about it: Iverson gets benched by the Coach and GM, and then Iverson demands a trade. They couldn't find the right team until Denver Nuggets and New York Knicks get into an ugly brawl in which All-Star Carmelo Anthony is suspended 15 games...which then leads to Nuggets desperately seeking a superstar like Allen Iverson. An amazing turn of events.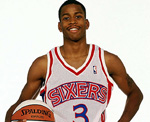 Personally, I'm excited. Finally a change of scenery for Allen Iverson and another shot at the playoffs with a fellow playoff team. The two highest scorers in the L playing side-by-side. That's gotta be exciting to watch!
I know all of you Philly loyalists are going to hate this one...but face it - What's done is DONE -- move on, if you're an A.I. fan then I'm sure you'll continue to follow him as a Denver Nugget -- just like this site will continue to cover A.I.
Iverson traded by 76ers to Nuggets
By DAN GELSTON, AP Sports Writer
December 19, 2006
PHILADELPHIA (AP) -- Allen Iverson got the new team he wanted, and the Denver Nuggets got the new superstar they suddenly needed.
The four-time scoring champion was traded Tuesday by the Philadelphia 76ers to the Nuggets for Andre Miller, Joe Smith and two 2007 first-round picks. The Nuggets also get Ivan McFarlin.
The deal came just as NBA scoring leader Carmelo Anthony began serving a 15-game suspension for his part in a weekend brawl between the Nuggets and New York Knicks.
Iverson now takes his 31.2-point scoring average to Denver and ends 10 turbulent seasons with the franchise that made him the No. 1 overall pick in 1996.
"I'm very happy about the trade," Iverson said in an e-mailed statement Tuesday night. "Denver's style of play fits my strengths. I'm looking forward to playing with Carmelo, the rest of the Denver Nuggets, and for (coach) George Karl, who is a proven winner."
Karl expects the deal to have an immediate impact on Denver.
"All trades shake your team a little bit," he said. "I hope that they realize that we're doing this to be better, we're doing this to be special, we're doing this to contend."
A seven-time All-Star, Iverson transformed the 76ers from lottery losers to contenders, though he couldn't bring home an NBA title to this championship-starved city. He came close in 2001, when the 76ers lost to the Los Angeles Lakers in the NBA finals. Since then the team has fallen from the elite, missing the playoffs twice in the last three seasons.
This year has hardly been an improvement. The 76ers (5-18) have the worst record in the league and are on an 11-game losing streak.
"We haven't won a championship, and I think we were a long way from winning a championship, even with Allen," 76ers chairman Ed Snider said. "It was time for us to take a deep breath and say we've got to move in a different direction. Allen wanted to move in a different direction."
Sixers team president Billy King said the salary cap room created by the trade, along with the draft picks, will give Philadelphia the chance to rebuild.
Iverson is due the rest of his $18 million this season, and a combined $40 million through the 2008-09 season.
His relationship with the only team he's ever played for was irrevocably broke once he asked for a trade two weeks ago. He had just been fined for missing a team function and his relationship with coach Maurice Cheeks had deteriorated to where the point guard didn't want to play for him anymore.
The 76ers sent Iverson home for good after holding him out of a morning shootaround. Soon, his nameplate was removed, his locker was cleaned out, and his highlights edited out of a pregame video package.
Now the 31-year-old guard's chase for a coveted championship moves to the Western Conference, where his Nuggets will play Philadelphia on Jan. 2.
"I talked to Allen this afternoon. He's fired up," Karl said. "I believe him when he says he thinks this, of all the places he was rumored, this is the one he wanted."
The Nuggets and 76ers each have home games Wednesday night and hoped to have their newest players in the lineup, though Iverson's agent, Leon Rose, said the point guard would not be in the mix. "He'll play Friday (against Sacramento), for sure," he said.
The Denver fans would love to see him. This marks the Nuggets' biggest trade since they dealt Kiki Vandeweghe to Portland for Fat Lever, Calvin Natt and Wayne Cooper in 1984. That move helped them make the Western Conference finals the next season. This one, they hope, will help them make it to the NBA finals for the first time in the less-than-stellar history of the franchise.
No matter the drama in Iverson's life, it has rarely affected his performance on the court. Even this season, with Iverson unhappy and the 76ers stuck in last place, he still is second in the league in scoring (behind Anthony) and averaged 42.7 minutes and 2.2 steals.
Iverson is averaging 28.1 points, 6.1 assists and 2.3 steals in 697 career games. He scored a career-high 60 points against Orlando on Feb. 12, 2005.
But as dynamic as Iverson has been, and as thrilling as it can be to watch the 6-foot tattooed bundle of energy play, only once did he lead the Sixers out of the second round of the playoffs. And Philadelphia was only a modest 355-342 (.509 winning percentage) with Iverson in the lineup for regular-season games.
At his best, he has been the ultimate gamer, a hustling, hard-charging MVP who became one of the most popular players in the league. His No. 3 jersey was always one of the top sellers.
Iverson thanked the Philadelphia fans Thursday. "They've been with me every step of the way, through all the ups and downs," he said.
And there were some downs.
As much as Iverson thrilled 76ers fans with what he did on the court, he gave the team nearly as many headaches for what he did off it.
With his rants about practice, his run-ins with former coach Larry Brown, his arrests and failed rap career, Iverson was often a magnet for trouble.
Iverson and Brown were a volatile combination during the six seasons they spent together in Philly. Brown criticized Iverson for taking too many shots and accused him of being selfish at times.
Iverson often arrived late for practice or missed them entirely. In one infamous blowup at the end of the 2002 season he repeated the word "practice" nearly 20 times during a rambling monologue. He now pokes fun at the memorable meltdown.
Brown and Iverson eventually reconciled and the coach made his former guard co-captain of the 2004 Olympic men's basketball team.
While some have predicted his all-out style means he'll wear out sooner rather than later, Iverson still ricochets around the court like a pinball. He had 15 40-plus point games in 2005-06, including his 10th-career 50-point game.
Though Iverson's name was often part of trade rumors, the guard out of Georgetown, nicknamed "The Answer," used to say he wanted to end his career in Philadelphia. "I truly wanted to retire a 76er," he said after he was banished by the 76ers on Dec. 8.
Iverson's years in Philadelphia were marred by arrests in 1997 for carrying a concealed weapon and for possession of marijuana and in 2002 over a domestic dispute with his wife. He was sentenced to community service in 1997 and all charges were dropped against him five years later.
Then there was the never-released rap album, which drew criticism from civil rights groups and got Iverson a reprimand from NBA commissioner David Stern because of its offensive lyrics.
"Don't get me wrong, there's some bad stories out there," Karl acknowledged. "As I told 'Melo when I got here, there's some stories about me out there, too. There's a lot of positives.
"One thing I hear on a consistent basis, his teammates love him. I think we need better chemistry on my basketball team. I think we need more leadership. I think we need more emotional maturity, I think we need some mental toughness, some intensity, an every game, every possession mentality. I think everything I said there, Allen Iverson has."
While Iverson's maybe a half-step slower than he was 10-plus years ago as a rookie, that's still a step quicker than most players in the league. He still was too quick to guard 1-on-1 and beat teams with his killer crossover.
Perhaps in Denver, he won't have to shoulder the scoring load, as he always did in Philadelphia.
The 76ers can only hope trading this superstar doesn't end up as lopsided as their last two franchise-shifting deals. No one in Philly can forget the 76ers only getting Jeff Hornacek, Andrew Lang and Tim Perry for Charles Barkley in 1992. But that wasn't the worst. In 1968, the 76ers traded Wilt Chamberlain to the Lakers in 1968 for Jerry Chambers, Archie Clark and Darrall Imhoff.
AP Sports Writer Pat Graham in Denver contributed to this report.
Updated on Tuesday, Dec 19, 2006 10:26 pm EST
---